Toronto Personal Training
Welcome to Fitness C.R.A.B.! My name is Daniel and I offer personal training in your condo in the central Toronto core.
It stands for Coaching, Rehab, Aerobics and Balance.
Many of my clients come from an injury, I help their body recover through rehab and regain balance. I offer:
Functional exercises, circuits for full body work, strength training and cardio.
Learn all the complex exercises as well as the pattern for maximum muscle growth.
Follow a nutrional program custom made for you so you can achieve your weight loss goals in no time.
Certified Trainer, Yoga Instructor and Health Coach
"One of my greatest joys is to see people get healthier, to help them exceed their expectations and actualize their goals. All while realizing that exercise is fun".
Daniel is able to offer comprehensive lifestyle plans based on personal goals and needs. He incorporates in-depth health and exercise evaluations, functional training, strength training, nutrition coaching, yoga, injury rehabilitation and more to produce dramatic results for each individual client.
Working out with a trainer at your condo has a lot of benefits:
Conveniant and Fast, save time!
Cheaper, no gym or transporation fees
Avoid the bad Toronto winter weather! Stay inside.
Learn all the complex movements and exercises you can't learn alone
Progress 10x faster than you would on your own, get accountability without leaving your house!
CrossFit
Constantly varied functional movements executed at high intensity across broad time and modal domains.
Check out what my other clients in Toronto have to say about me. I've been a trainer in the Toronto area for more than 10 years!
"Working out has always been hard for me but you made it easy."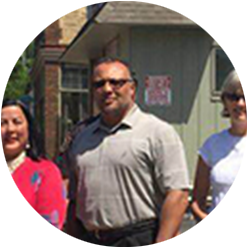 Financial District, Toronto
"You helped me recover from a back injury I never though I could recover from."
"Your class in Toronto has inspired me to workout 3-4x per week!"
30 DAY BODY WEIGHT CHALLENGE
Transform your body in just 15 minutes a day. No equipment required.