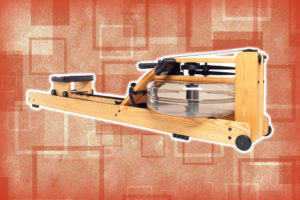 Buying a good rowing machine is expensive, and it is an important decision to make. It is an investment that will last you many years.
Is the WaterRower on my list of approved rowers to buy? YES. But it is actually #2 on my list, just behind the Concept 2.

Let's look at why…
WaterRower Benefits vs Concept 2
Pros
The WaterRower is very nice and comfortable for long slow cardio work, but not a great tool for intervals and races. That is where the C2 excels.
The WaterRower is quieter, and the sound of the water is nicer than the sound of the air fan.
The WaterRower is heavier, but smaller, and can be stored upright. It has wheels and is easier to move.
It looks really nice like a piece of furniture that you can leave in your living room.
Cons
More expensive. The WaterRower is around $1150 vs the $950 of Model D.
Less of a market for resell. Everyone wants a used C2. WaterRower not so much.
Isn't indestructible like the C2, and parts are more expensive. Don't get me wrong, the WaterRower will last you 5+ years without maintenance, probably even 10-15 years with maintenance, but yo might have to buy new parts, and they'll be more expensive. The tank can break and it cost $200. C2s last for decades.
Measurements are useless, it doesn't tell you accurately how far you've rowed and how fast.
No resistance settings, you need to add more water to change the resistance, you can't do that on the fly.
Need to add chlorine tablets every once in a while to prevent algae from growing if lights shines on the water tank during the day. The tablets are free lifetime though.
View the WaterRower lowest price here
About Me
I've been rowing since as I was 12 and began rowing competitively at 18. I'm now a fitness coach and rowing coach. Out of my 15 years of experience rowing, 5 of those have been spent on the WaterRower, and I really liked it. There is less impact at the catch then with a C2, so the pull is smoother.
A smoother ride
On the water rower, when you pull on the cable, it spins a turbine inside a container of water. This is more similar to actually rowing a boat than a C2. However, unless you are going pretty fast, the turbine slows down very quickly, almost as if you are starting and stopping with each stroke. Maybe some people like that about the water rower, but I don't.
No question it's a different rowing experience than the C2. The catch is much smoother on the WaterRower; whereas the C2 feels almost like it's yanking you on your initial drive. Ultimately, it comes down to preference.
The quietest rower on the market
WaterRower is much more quiet, making it ideal for home use. There's 4 types of resistance for rowing machines. Air, Water, Hydraulic and Magnetic. Magnetic and Hydraulic are very quiet, but they are pieces of trash and you should not buy them. That leaves Air (Concept 2) and water. Water is much quieter.
Smaller than the C2 and can be stored upright
It takes little room compared to the C2 because of easy upright stow-away.
Nice piece of furniture
The WR is damn handsome. The rowing machine is made of wood and will fit in any living room. It was featured on House Of Cards. If president Underwood uses it, you know it's high class.
Great Phone Support
The company has great phone support, and will send you free chlorine tablets (maintenance to fight the algae) for life, but then again the C2's customer service is just as good, if not better. The warranty is 3 years on all components and 5 years on the structural frame.
Less market value than the C2
There is a used device market for the C2, but not for the water rower, making it possible to obtain a C2 at a lower price (but that depends on where you live and how much time you want to spend looking, it could take months to get a good deal).
Not as durable as the C2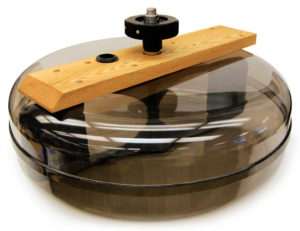 The waterrower is definitely durable and will last years, but not as durable as the C2, which will basically last a lifetime. The major failure point for the water rower is the water tank. At some point in the life of the rower, the tank can degrade and crack or eventually leak. Replacing these tanks can be costly ($200).
Here's what someone at board.crossfit.com says:
I'm conflicted about what to do about my 6 year old WaterRower that has sprung a leak and thought I would ask the board for opinions. WaterRower service (very pleasant and easy to reach) advises me that they will repair a leaky seam for $30 + shipping. However, there is also a hairline crack at the top of the tank where it attaches to a frame member — a new tank costs $200 + shipping. They say they've improved their glue but I suspect my current tank will give me more problems in the future.
Here's someone from board.crossfit.com who hasn't had that problem:
I have used my WaterRower pretty extensively the past 7 years; probably 3-5 times/week up until the last 6 months, I haven't had any leaks, but I can see how that might happen.

I messed around with the water level at the very beginning (filling it a bit ABOVE the recommended water line) figuring that more water = more resistance = better. After spending a lot of time reading/listening to the CFJ articles (a WONDERFUL source of information), I learned that you tweak the fan opening (or water level in the case of the WaterRower) to maximize POWER and not RESISTANCE. I did a few experiments and settled on a particular water level and have never changed it. I focus on my stroke (especially the return) and use the power meter (in the add-on software) to slowly improve power over time.
No measurements
The computer readings on the WaterRower are not useful for comparison across different devices, due to the inherent problems of different water levels in different devices. Also, if you want to compete or compare yourself to others, you have to go C2 – it is THE STANDARD in every gym across the world.
No resistance settings
The no resistance settings is actually not that big of a deal. You can set a "default" resistance by the amount of water you put in the tank. And you can learn to focus on your stroke and not really care about the resistance level. Rowing is a good working at any resistance, and most people on the C2 use an arbitrary resistance.
Maintenance problems
Here's a quote from board.crossfit.com:
I actually really liked the water rower, it was smooth and the sound of the water is also nice. It is much heavier and harder to move due to the water and the one at the gym began to leak all over the place. In addition, the gym never changed the water in the rower and it became quite disgusting.
Here's another saying it's no problem:
I like both but they are different enough that the features of each should be carefully considered before buying one. I don't have any of the problems that plague machines at athletic clubs. I take very good care of my equipment.
Not made for High Intensity (HIIT)
Here's a quote from someone at board.crossfit.com:
I have had a waterrower for about a year now. I really enjoy it, if I am doing a long, medium paced row.

However, I have had issues when I do intervals or anything really intense. The 2nd time I did intervals on it, the screws popped out of the footplate, causing it to come undone and thus ending my workout. I think it is designed more for what I mentioned in the 1st lines. Don't get me wrong-it is smooth and enjoyable, but for what most CFs will do on a rower…not so much.
Measurements
Weight Limit
How much does it cost?
Where to buy?
Warranty
The machine itself measures 7′ long by 22.5" maximum width. An area of 8′ by 4′ is required for using it.

The weight capacity is 325 to 375 lb (depending on the model), which is great if you are a heavy person (300 lb+) because most other brands like stamina all have 250 lb as their limit weight.
$1150 or so for the cheapest model.
For new I think
you can't go wrong with Amazon
. There's certainly other places but it would be my recommendation for fast shipping, low prices and great customer service.
For used, you can check ebay or craigslist, though there's not a huge market for used waterrowers like there is for the C2.
The warranty is 3 years on all components and 5 years on the structural frame.
Best WaterRower Model (Natural vs Oxbridge vs M1 vs GX vs S1)

There's 10 models of WaterRower, there's only 3 differences between them: The material they're made of, whether it's mono rail or dual rail and what monitor it uses. The differences are insignificant and I recommend you buy the cheapest option.
Material
The materials are different types of wood (Natural, Club, Classic, GX), aluminum (M1) (1.5x price increase) and stainless steel (S1) (2x price increase).
In my opinion, the material doesn't matter. The main breaking point is the tank, not the material of the rower.
View the WaterRower Natural lowest price here
View the WaterRower Club lowest price here
View the WaterRower Classic lowest price here
View the WaterRower GX lowest price here
View the WaterRower Stainless Steel lowest price here
Rail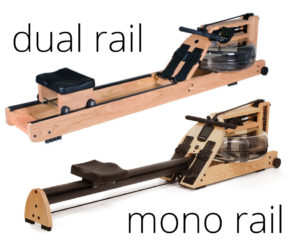 Same thing with the rail. The rail is not known to be more durable as mono or dual, hence you should just go for the cheaper option. The dual rail is sometimes pricier depending where you look. The only models with mono rails are GX. The rest are all dual rails.
Monitor
In terms of the monitor, again, the differences are insignificant, The GX monitor has calories instead of heart rate, and the S4 does not have heart rate. Only the GX models have GX monitors, the rest all have S4. (There's a third type of monitor, the A1, which is not sold in the US or Canada.)
Since all those differences are insignificant, I recommend you buy the cheapest option you can find, which is most likely going to be the WaterRower Natural Rowing Machine in Ash Wood with S4 Monitor.
Do I recommend the WR over the C2?
Not at all, unless you REALLY know what you're doing and are 100% sure that the WaterRower is best for you, because in the end between those 2 it really comes down to personal taste.
You can read my full review of the Concept 2, it is a great machine, and the only alternative to the C2, but like I said I still recommend the C2 as #1 unless you really know what you're doing.
Thanks for reading through this article
My full time job is to train people in their homes and I often have to make recommendations about what equipment they need to buy. If you have any questions about anything whatsoever fitness related, email me at daniel@fitnesscrab.com.
Also, if you believe I've made a mistake in this article, please leave a comment so the community can learn from your knowledge. Thank you so much.