Buying a good rowing machine is expensive, and it is an important decision to make. It is an investment that will last you many years.
Is the Concept 2 on my list of approved rowers to buy? YES. It is actually #1 at the top of my list.
Let's look at why…
Who uses the Concept 2?
Almost every olympic rower for the past 30 years has used the Concept 2 exclusively. It is also the industry standard for commercial gyms across the nation, as well as Crossfit gyms and competitions.
Benefits
Pros
Practically indestructible and has a lifetime of 20+ years.
Made in the US. Replacement parts are cheap and easy to order from their amazing phone support.
Holds value for resale at almost 100 cents on the dollar. Concept 2 are highly in demand, and last forever, hence the high resell value.
Accurate measurements of calories burned and distance rowed.
Can take it apart in 2 pieces quickly to store between workouts.
You can change the resistance with the damper, from 1-10.
It feels very close to being in a boat on the water.
Cons
Expensive
Noisier than water or magnetic resistance rower (C2 is air/flywheel resistance)
Takes more space than the WaterRower
View the Concept 2 lowest price here
About Me
I coached a rowing team of over 150 high school athletes and given the size of the team we had shifts on the water and on the erg machines. Typical weekly use was something to the tune of 120,000m per machine. Play that out over a year and they worked as they should for at least 7 million meters. The typical gym will never even reach half of that distance per machine so for a value of 900 to 1000 dollars, it is probably the best value within the sport and if given some care along the way should still be working great years later.
Indestructible and will last a more than a lifetime
The way I look at it is like this: yes, the C2 is not cheap BUT it will last you a lifetime (even the stuff that can go bad are easy to fix) and if you find that you don't need it anymore, you will get your money back no problem (from selling it used). Here's a quote from board.crossfit.com:
…because that 1 well-made C2 rower will probably outlast 5 of the cheaper alternatives purchased back to back to back to back to back. C2 rowers are darn near indestructible, so what you're pondering here is the equivalent of buying Walmart brand tools to "save" money over buying Craftsman tools….you can spend a little more money now, or spend a lot more later in repairs and replacement costs.
Phone support is amazing
Another quote from board.crossfit.com:
The past couple weeks I have had the best customer service I have ever received. I bought a used Concept 2 Model D rower off craigslist, and the chain had several links that had seized. I went on to the Concept 2 website and ordered the replacement parts I needed. When I received everything, I started doing the repairs, but when I tried to remove the sprocket with the special "flywheel cog tool nut with clutch assembly", the bearings disengaged (for lack of a better term) and the nut would just spin in both directions. I called Concept 2, spoke with Will, and he sent me a new nut/tool out that day at no charge. He told me that that has happened before, so he would send it out right away (and that was the Friday before Labor Day).
Can take it apart in 2 pieces quickly
The Model C and Model D rowers have a quick release on the slide so that it comes apart in two pieces. It takes literally 10 seconds to take it apart or put it back together. It will definitely fit anywhere you want it to. Can you store the concept 2 outside? No. Humidity, moisture, etc. are things that will ruin your investment in the rower.
You can change the resistance with the damper, from 1-10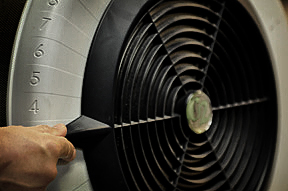 The only good alternative to the Concept 2, the WaterRower, does not have a resistance setting, so it's actually an important point.
Holds value for resale at almost 100 cents on the dollar.
If I didn't already have a C2, I would have no problem buying one, because I know it to be totally bullet proof and readily re-salable at almost 100 cents on the dollar. They probably have the strongest used market for any fitness equipment right now, so if you didn't like it for some reason you could sell it for less of a loss than pretty much any other piece of equipment. Can't lose.
Accurate Measurements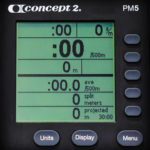 The measurements are most accurate to what you'd get in a boat and it is the standard if you want to compare to other rowers. Some day you may become interested in how your rowing performance stacks up in your peer group. The Concept 2 has a close enough performance tolerance from one machine to the next to allow comparison with people worldwide. Something to keep the spice in your fitness regimen.
Feels like on water
Speaking from 10 years of competitive rowing experience (including international level), the C2 feels as close as you get to being in a boat on the water. That's why they're so popular among land training rowers (we even have indoor rowing championships). Adjusting the damper changes the feel from a single scull (8) to a fast moving eight (3).
Measurements
Weight Limit
How much does it cost?
Where to buy?
Warranty
The machine itself measures 8′ long by 24" maximum width. An area of 9′ by 4′ is required for using it.

The weight capacity of the C2 is 500 lb, which is great if you are a heavy person (300 lb+) because most other brands like stamina all have 250 lb as their limit weight.
Model C: No longer selling new. Used less than $400.
Model D: $950 new
Model E: $1150 new
For new I think
you can't go wrong with Amazon
. There's certainly other places but it would be my recommendation for fast shipping, low prices and great customer service.
For used, you can check ebay or craigslist, though people know the resale value of these things are high, so you will not be able to find a good deal easily. It might take months of searching.
2 years limited warranty and 5 years warranty.
View the Concept 2 lowest price here
Concept 2 (Air) vs Magnetic vs Hydraulic Resistance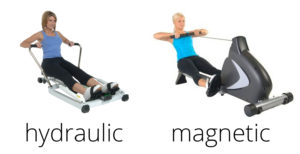 The act of rowing against water has certain inherent features, such as the fact that the harder you pull the more resistance the water provides. Since it's not very practical to actually row a boat during these exercises we get stationary rowers.
The closest analogue to rowing on the water is probably a WaterRower. However, the next best thing to approximate hydro-dynamics is aero-dynamics since water and air behave very similarly.
Since magnetic/hydraulic waves don't have those same dynamics they would not approximate actual rowing nearly as well as an air or water based rower. But the main reason I do not recommend magnetic or hydraulic is because the companies that make them are crap and they make crap rowers.
Concept 2 Alternatives
The only alternative to the concept 2 is the WaterRower. Everything else is a piece of crap waste of money.
WaterRower vs Concept 2
WaterRower Pros
The WaterRower is very nice and comfortable for long slow cardio work, but not a great tool for intervals and races. That is where the C2 excels.
The WaterRower is quieter, and the sound of the water is nicer than the sound of the air fan.
The WaterRower is heavier, but smaller, and can be stored upright. It has wheels and is easier to move.
It looks really nice like a piece of furniture that you can leave in your living room.
WaterRower Cons
More expensive. The WaterRower is around $1150 vs the $950 of Model D.
Less of a market for resell. Everyone wants a used C2. WaterRower not so much.
Isn't indestructible like the C2, and parts are more expensive. Don't get me wrong, the WaterRower will last you 5+ years without maintenance, probably even 10-15 years with maintenance, but yo might have to buy new parts, and they'll be more expensive. The tank can break and it cost $200. C2s last for decades.
Measurements are useless, it doesn't tell you accurately how far you've rowed and how fast.
No resistance settings, you need to add more water to change the resistance, you can't do that on the fly.
Need to add chlorine tablets every once in a while to prevent algae from growing if lights shines on the water tank during the day. The tablets are free lifetime though.
Do I recommend the WR over the C2?
Not at all, unless you REALLY know what you're doing and are 100% sure that the WaterRower is best for you, because in the end between those 2 it really comes down to personal taste.
You can read my full review of the WaterRower, it is a great machine, and the only alternative to the C2, but like I said I still recommend the C2 as #1 unless you really know what you're doing.
View the Concept 2 lowest price here
Model A vs B vs C vs D vs E vs Dynamic
My overall recommendation is the Model D. It is cheaper than model E but the improvements of model E are insignificant. It is quieter than model C and model C is currently discontinued so the D is the only one you can buy new. Apart from that, the newer models get quieter and quieter and have slight improvements on handles, footrests, monitor, etc, but those improvements are not significants. Get the D (giggity).
| Image | Model | Year of Release | Notes |
| --- | --- | --- | --- |
| | Model A | 1981 | Not worth the buy since it was the first model and several improvements have been made on model B. |
| | Model B | 1986 | Rower is good but it is not recommended to buy as they will be too old at this point. |
| | Model C | 1993 | You can only buy model C used, it is a good decision at lower than $400. |
| | Model D | 2003 | It is quieter than the C and is the best model for the price of around $950. |
| | Model E | 2006 | It is more expensive than D at around $1150 with no insignificant improvements. |
PM3 vs PM4 vs PM5 (Performance Monitor)
The Concept 2s come with PMs (Performance Monitors). They can be replaced with newer models or if they break. Make sure you look what monitor your rower comes with. Note that in my opinion there is no significant improvement between PM3 vs PM4 vs PM5 and I recommend either of the 3.
Monitor Type
PM3
PM4
PM5
Image
Backlight
No
No
Yes
Model it works with
Standard on Model D
works on Model A, B and C
Standard on Model E
works on Model A and D
Standard on Model D and E from 2014
works on all models
Batteries
Can take two D cell batteries
Can take two D cell batteries and also has a rechargeable battery pack
Can take two D cell batteries but no rechargeable batteries pack like PM4
Compatibility



Polar heart rate equipment when Concept2 heart rate receiver and cable in use


Concept2 LogCard for storing workout data





Polar heart rate equipment when Concept2 heart rate receiver and cable in use


Concept2 LogCard for storing workout data


It also supports Garmin, Suunto and ANT SPORT chest belts





ANT+ and Bluetooth Smart wireless heart rate monitoring


USB flash drive (FAT and FAT32 formats only) for storing workout data and updating firmware


As you can see, PM4 vs PM5 has a backlight and bluetooth (great for phone connectivity). It is not worth the upgrade price of $150+ in my opinion.
All the PMs 3 to 5 work with fitness video games like DigitalRowing.com RowPro. You can check out a list of apps here http://www.concept2.com/service/software/other-apps
SkiErg vs Rower
I cannot recommend that you buy a SkiErg over the rower. While SkiErg comes from the same company and is a great piece of equipment, it does not replace a rowing workout and I would only recommend that you buy a SkiErg if you're training specifically for Ski, and not for general fitness, or if you already have the rower and want an alternative movement.
Airdyne vs Concept 2
The Concept 2 is simply a much more complete overall exercise compared with the Airdyne. The Airdyne still has a place but not for a complete exercise. Maybe for warmup or cool downs but not as primary any more. I cannot recommend one buys an Airdyne over the rower.
View Airdyne lowest price here
Thanks for reading through this article
My full time job is to train people in their homes and I often have to make recommendations about what equipment they need to buy. If you have any questions about anything whatsoever fitness related, email me at daniel@fitnesscrab.com.
Also, if you believe I've made a mistake in this article, please leave a comment so the community can learn from your knowledge. Thank you so much.