Buying a good rowing machine is expensive, and it is an important decision to make. It is an investment that will last you many years.
As a fitness coach and ex-competitive rower, I've tried every brand on the market, and there's only 2 good machines that stand over the rest, The best brands are: The Concept 2 and the WaterRower.
The rest are GARBAGE. This includes the very popular brands Stamina and Sunny Health & Fitness. I do not recommend you purchase either of these brands.
Best Machine for the Money
By far it is the C2. The reason is the C2s are indestructible. They will last you a lifetime, or more. If a part breaks, the pieces are cheap and ship from USA. And if you don't want it anymore, there's a huge secondary market for C2s. Everybody wants one, cause they know it's the best! You can easily sell it for almost 100 cents on your dollar. The C2 also wins for best air rower and best overall erg machine.

For Home Use
I'm gonna say that the WaterRower is best for home use. The reason is it stores easier than the C2. You can put it upright and it takes little space. Also it looks extremely nice, so it will fit in your living room and not make it ugly. It's also a lot quieter than the C2. Though the C2 doesn't fold, you can split it in half quickly, which can also save space. There's other brands that make water based rowers, but I wouldn't buy one of them. The WaterRower company has proven itself countless times with quality and customer support. In terms of what model is the best within the WaterRower line, I would go for the cheapest you can get, as the differences are in my opinion insignificant.
Budget Machines Under $500 And $400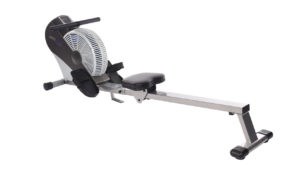 Although I hate Stamina and their crappy products, if I absolutely had to go for something under $500, I would go with one of their air rower. Specifically the Stamina ATS Air Rower 1399. Why? Because air rowing is highly superior to magnetic and hydraulic in terms of getting a real rowing experience, the smoothness and enjoy-ability of the movement.
I have tested the Stamina ATS Air Rower 1399, and I did like it, but it felt cheap and I knew it was gonna break easily. I do not recommend it at all, but it might be the best you can get under $500 or $400.
Budget Machines Under $300 and $200
Again, if I absolutely had to buy something under $300 and $200, I would again go with Stamina. Why? I think Sunny Health & Fitness are a bad company and their products are even lower quality than Stamina, and I wouldn't go for something outside of the big 4 (C2, WaterRower, Stamina and Sunny Health).
I would go for Stamina Body Trac Glider 1050. Note this is a hydraulic rower, which does not give an outdoor rowing experience whatsoever, but it can give a decent workout nonetheless, before it breaks a few months later. I highly advise against buying anything other than a C2 or a WaterRower, but if you absolutely must, this is the one I would get.
Small / Portable / Compact Machines
That would have to be a hydraulic machine. Those are easy to carry and take almost no space. My choice for best hydraulic would be the Stamina Body Trac Glider 1050. I do not recommend that product even if it's the "best" in this category. The Stamina Body Trac Glider 1050 is the best Hydraulic machine.
Note that the WaterRower has wheels which makes it easy to store and move around by yourself effortlessly. You can store it upright to save space.
For Crossfit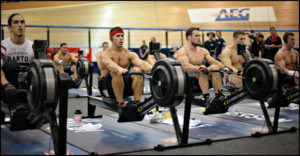 The official Crossfit rowing machine is the C2. It is the only one used in CF gyms and competitions. The reason you can't use other machines is because of the high intensity and volume. Any other machine will just break. Also, you need to be able to compare your times with others, which is simply not possible on any other machine. In that respect it is also the best erg (the system used to calculate distance rowed) machine. It has been used in every Gym, and by every Olympic rower for the last 30 years. It is the industry standard.
Magnetic Machines Are The Quietest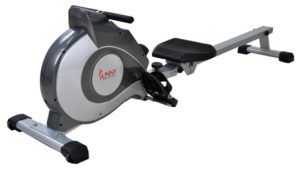 Even though I've had terrible experiences with Sunny Health in the past, they do make the best magnetic machine right now. It is the SF-RW5515. Some other companies make magnetic machines, but I wouldn't stray outside the big 4. Magnetic Rowers are the quietest of all. So the best, quietest machine would have to be the Sunny Health & Fitness SF-RW5515. Though I do not recommend you buy this at all, as it is a crappy product. If you want a great machine that is quiet enough, get the WaterRower.
For Tall People
If you are tall, avoid all hydraulic and magnetic machines, as they will be too small for you, but you will have a great advantage on a machine like the C2 or the WaterRower. The longer legs will make you travel more miles easier.
Commercial / Professional / Heavy Duty
Maybe you're thinking of opening a gym, or you are a competitive rower? In this case you have only 1 option. The C2. Nothing else with compare in terms of durability and mimicking of real outdoor rowing. There's a reason all Olympic rowers only use those and why it is in every gym and endorsed by Crossfit. Note that the C2 has very high resistance settings if you want to push yourself.
Thanks for reading through this article
My full time job is to train people in their homes and I often have to make recommendations about what equipment they need to buy. If you have any questions about anything whatsoever fitness related, email me at daniel@fitnesscrab.com.
Also, if you believe I've made a mistake in this article, please leave a comment so the community can learn from your knowledge. Thank you so much.
Voir la version Française de cet article: Comparatif des meilleurs rameurs de 2017